Cantoalavida
We struggle for a better world, because small creatures are in need and require love and care. Support us to make them living better.
Welcome to Cantoalavida Foundation

​

Any little (or sometimes not so little) creature that comes through our gates receives love, warmth, medical attention and a chance at a better life.


Because every living being has the right to live.

"I do what I can. I do the best I can."

The Spanish meaning of Cantoalavida is the celebration of life. The accurate translation means to "sing to life", thus celebrating living beings in all shapes and forms.

The registered charitable foundation Cantoalavida was established in March 2012 in Colombia Campoalegre, and it works to create and implement social projects in Colombia.

It is run on a voluntary basis with principles of solidarity and sustainability, supporting people and animals with an ecological focus. We aim to create an equilibrium between human beings, animals and the environment, for the benefit of all three.

Due to the urgent needs of the local area and the limited resources we have began with, we made the decision to concentrate our efforts on improving the lives of the unwanted, abandoned, and often abused animals of Campoalegre. From humble beginnings we now shelter and care for more than 80 dogs and 120 cats.

Finally, it is important to say that Cantoalavida survives purely thanks to the work of volunteers and is financed entirely by donations!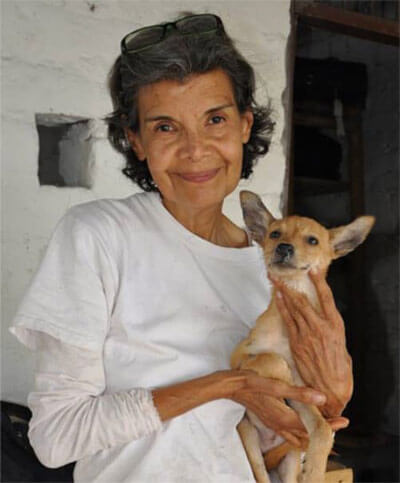 Gloria Ramirez Cortés, foundress of the foundation Cantoalavida